One of the reasons people enjoy winter is it feels so cozy and snug to be warm indoors when it's cold outside. And one of the easiest ways to stay warm indoors—without piling on blankets and staying in one spot all winter long—is equipping your living space with insulated glass. Insulated glass keeps cold air outside and warm air inside—where it belongs! It's versatile and effective and can be used in a variety of ways to help you stay warm during cold weather.
How Does Insulated Glass Work?
Standard Windows Contribute to Heat Loss Over Time
In standard window construction, a pane of glass is used to separate the inside of a home from the outside. This means there's only one single pane preventing heat passing in and out through the window. A single pane of glass transfers heat very easily by various processes such as convection and conduction.
Conduction is when heat passes through the molecules of an object. It sounds complicated, but think about this: When you hold a hot cup of coffee, you feel the heat because it's passing through the coffee and the mug to your skin.
In convection, heat is transferred by the movement of air. In terms of a window, this means warm air near a window becomes cooler as it blows against the cold glass. As the cooler air circulates inside, it makes the whole home cooler.
These two processes—conduction and convection—are the main reasons standard windows contribute to loss of heat when you're trying to stay warm inside during winter.
Insulated Glass Helps Prevent Heat Loss
An insulated glass window or door has not one, but two or even three panes of glass. The glass panes are separated by spacers, and the spaces between the panes are filled with an inert and harmless gas, like argon or krypton.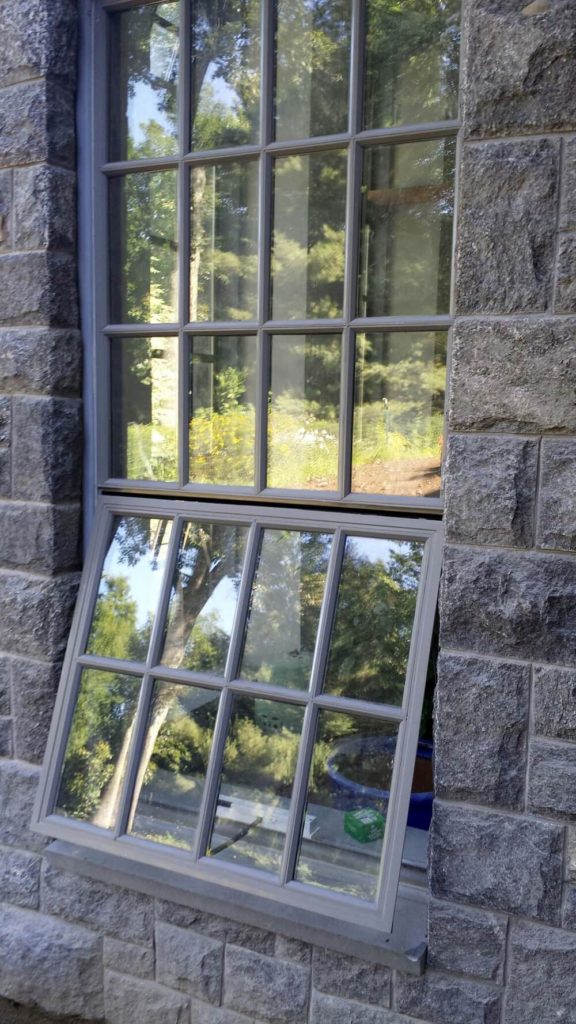 That's two major benefits!
Cold air has more panes to pass through to get to you.
The space between the panes—along with the gas inside the space—reduces the effects of conduction and convection.
The wider the spaces between the panes of glass, the more effective the insulation is. Adding additional panes of glass also makes the insulation more effective, but in most homes and businesses, it's not practical to install windows with more than two panes of glass.
Bonus Benefits of Insulated Glass!
Having insulated glass goes a long way toward making your home warmer, but it has other advantages too.
Keep cool – Just as it's easier to keep your home warm in water, it's easier to keep it cool in summertime. Because insulated glass simply makes the transfer of air harder, it keeps cool air inside and hot air outside.
Enjoy quietude – Insulated glass reduces outside noise, so your home will be quieter as well as more comfortable!
See lower bills – Insulated glass makes your home more energy-efficient, and that's great for your wallet! You'll find your home uses less energy to stay warm in winter and less to keep cool in summer, and that will be reflected in your monthly utility bill.
3 Ways to Use Insulated Glass in Your Home
Windows!
Doors – If any of your home's doors are glazed, insulated glass works just as effectively for them as it does for windows to reduce heat loss and help you stay warm.
Non-traditional windows, such as skylights, also benefit from insulated glass.

Pro Tips for Making Insulated Glass Work for You
You can make your insulated glass work even more effectively by choosing non-standard glass types. For instance:
Low-emissivity glass (or low-E glass) – It's even more effective at keeping heat inside your home. This type of glass is covered in a special coating that reflects heat. This means it can let heat and light inside but prevents heat from being lost. And when the weather gets warm, it works in the opposite direction to let heat out, but prevent it entering.
Tinted or reflective glass – It's resistant to both heat and light. This kind of glass can help reduce indoor glare, as well as keep heat out in the summertime.
Glass that reduces ultraviolet light – Tired of faded furniture, paint, or carpet? This type of glass protects soft furnishings, carpets, art, and paint from fading.
Laminated glass – Insulated glass helps reduce outside noise, but laminated insulated glass makes noise insulation even more effective. Laminated glass is glass bonded to a resin layer. Another advantage of this kind of glass is the resin layer holds the pane together if it breaks.
Take Advantage of the Benefits of Insulated Glass
Installing insulated glass in your home offers a fantastic range of benefits, from a more comfortable space all year round to reduced energy usage and lower utility bills. Dimensions in Glass makes the process of choosing insulated glass and installation super easy! Give us a call at 203-336-1888 today to learn more, view examples in our gallery, or request a quote.